Kunsthalle Exnergasse, WUK, Währinger Straße 59, 1090 Wien
Finissage of the group exhibition on 3 March 2012, 19h.
Finissage: Public Interview with Hans Scheirl
Technologies of Avant-garde Queer Cinema
moderated by Dimitrina Sevova, curator of the exhibition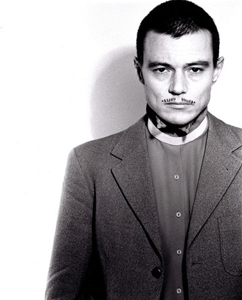 Hans Scheirl. Photo by Michelle Martinoli, London 1998
There are many remarkable filmmakers in the history of avant-garde cinema. But few are those who have completely changed our perception about the cinema material and its aesthetic and political potential as a means of fighting the clarity and purity of the production, reproduction and circulation of images with unconventional passion. Among them Jack Smith, who during the 1960s introduced a new language transgressing the lenses of the ideological machine and its signified reality using self-exoticizing, orientalizing and other camp devices; and Hans Scheirl who since the 1980s went even further in destabilizing and distorting the economy of image construction to trash the coding and ordering apparatus of what is termed normal behavior, the oppressive norms and control of a schizophrenic consumerist capitalism, and gives the images a new material mode of existence. His cyborg protagonists go beyond good and evil with their polymorphly perverse appropriation of the technologies of image production, cutting up the totality of hegemonic representation and bending the polarized world system, normative patterns of behavior and the representative theater of oedipal power. They ruin the image of accepted subjective formations in order to open up a utopian horizon to a possible existence in relentless invention, driven by boundless flaming desiring machines beyond the confining formulas framing and producing our reality. (ds)
Hans Scheirl
Born "Angela Scheirl" 1956 in Salzburg, Austria. While studying at the Academy of Fine Arts in Vienna (1975-80) Scheirl began to make super-8 films. 1981-82 s/he worked for Arleen Schloss' regular performance event "Wednesdays at A's" in N.Y.C. and started to do performances. Until 1998 Scheirl made more than 50 films in different formats, all of which challenge norms of sexuality and gender identity in a performative way. Best known are the two feature-films "Rote Ohren fetzen durch Asche" ("Flaming Ears") (1991) (co-directors: U. Pürrer + D. Schipek) and "Dandy Dust" (1998). 1996 Scheirl took on a transgender identity. He lived in London for 16 years where he completed an M.A. course in Fine Arts at Saint Martins College of Art + Design in 2003. Since 2006 he is professor for "Contextual Painting" at the Academy of Fine Arts, Vienna.